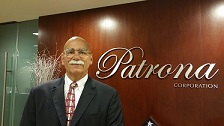 ARLINGTON, VIRGINIA. June 3, 2015 – Patrona Corporation, a leading woman-owned small business service provider to the U.S. Navy and DoD, announces the hiring of Mr. Timothy T. Bassett as a Principal Engineer. He will be assigned duties providing senior leadership, technical expertise and strategic planning of Patrona's broad array of emergent customer initiatives.  Mr. Bassett has more than 37 years of technical, senior management and strategic planning expertise that make him an invaluable asset for Patrona as it strives to become the preeminent service provider for the submarine and greater Naval Sea Systems Command (NAVSEA) community.
Prior to joining Patrona Corporation, Mr. Bassett was Executive Director of the NAVSEA Submarine Maintenance Engineering, Planning & Procurement (SUBMEPP) Activity located at Portsmouth Naval Shipyard in Kittery, Maine. He was first-in-command overseeing a staff of 220 civilians and 110 contractors, supporting submarine maintenance, strategic planning and execution of a $60+ million budget. He also maintained alignment with NAVSEA and Fleet Commands to ensure efficient and effective execution of submarine maintenance plans for the entire submarine navy. Mr. Bassett developed and implemented revised strategy for SSN 688 Class submarine maintenance and achieved savings of approximately $278 million dollars.
"Tim is a leader with the experience and acumen to accelerate Patrona's presence throughout NAVSEA, and particularly in the Northeast U.S.," said Patrona President Joseph Novak. "Tim's extensive track record of delivering results will continue to provide our customers cost-effective and innovative solutions in the submarine community. We look forward to Tim leading our U.S. Navy initiatives and helping to expand our service offerings throughout the DoD market."
Mr. Bassett received a Bachelor of Science Degree in Civil Engineering from the University of Massachusetts, in Lowell, Massachusetts. He also received a Masters in Engineering Management from the University of Western New England College in Springfield, Massachusetts.